CallBack's Latest Losers
Public Rate a Nude Request - Our Response:

Hahahhaha!
We see you opted to write "slut"...we suppose it was a bit ambitious thinking you would be able to fit "CallBack" on. Although the idea of you being anyone's slut is laughable. As if anyone would go near you.
Seriously though, they wouldn't would they? We're not even sure we'd want to be in the same room as you knowing what you've got in your pants.
Your choice of underwear seems to be getting worse. Looks like you're wearing a cut off from your Granny's curtains!
We notice this pic is a real close up. Don't think we were ready for it. One girl here has had to go and get some fresh air it made her feel so sick.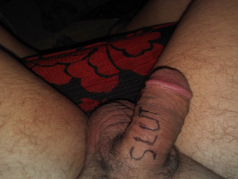 Public Rate a Nude Request - Our Response:

Ok, so us girls in the office have looked at your pic and discussed it in detail while being in fits of laughter! 😂 Firstly, do you realise how pathetic this picture is?! That little dick poking out of some girly panties with cherries on! We reckon you feel sexy wearing them panties don't you? Well there is nothing sexy about it you fucking loser! We think you're a panty wearing sissy slut with a pathetic little cock... in fact, we think it's more appropriate to call that a clit. Is that 'thing' even hard? We can't tell. If it is, that makes this picture even more tragic! We see that you've asked for a Public Review, meaning you want this pic on our website? So not only are you inflicting this vile picture on us, but on our customers too?! If anything, your pic provided a LITTLE (little being the operative word here) entertainment... momentarily.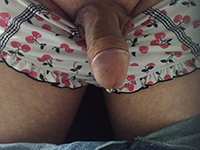 It's Oliver from near Preston again. This is a real photo of me. I am a real sissy husband and my wife has ordered me to post this picture of me to humiliate myself.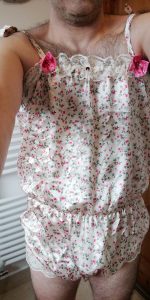 Public Rate a Nude Request - Our Response:

Where do we begin with this pic then?! How about 'fucking disgusting!' - that sums it up pretty well doesn't it!

We just really hope that you had your camera on a timer to take that pic and that some poor fucker didn't have to be in the same room as you to take it, because no one should have to see that sight in the flesh!

So when's the baby due? Ahahaha! Someone ate all the pies didn't they!

Also you could try doing a bit of grooming down below, give those pubes a trim or are you trying to keep that pathetic little maggot warm? Lol. Saying that, you probably haven't seen that maggot for many years now anyway.

You've paid £12 for this review which is an absolute bargain for you but we're now stuck with this horrible image in our minds, so thank you for nothing loser!

You may submit another pic for our review, but try harder next time! Perhaps wrote 'CallBack' on your belly, that'd cheer us up.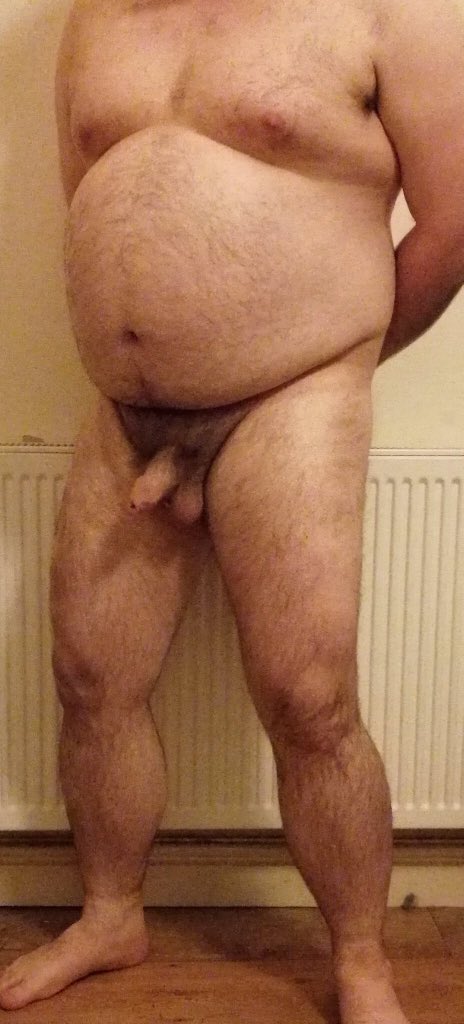 My name is Mark from Essex and I'm a SLUT. The only use I can ever be to ladies is as their ashtray, toilet, spitoon and cum dumpster and the nearest thing this slut gets to sex is if a lady or ladies use strap on's on it.
My name is Ben and I live in Manchester. I have a tiny dick that doesn't satisfy my wife so she goes out to get fucked by real men.
My name is Ian Edwards from Burnley but from this day forward, I'd like to be called Cum Slut Susan.
I need to confess that I once spunked in a hot chocolate that I made for my mother in law. I love watching her drink it. Jamie Barrows, Winchester.
I would like to admit that I get turned on in the fish & chip shop when I see a saveloy sausage. Seriously. John T, Harrow.
Hello I'm Marcus J from Worcester and I liked being fucked with a big strap-on
I'm Tom from Huddersfield and I'm a sissy prostitute that needs to be fucked by men. Call me 0748**493**
I'm straight but I'm desperate to be on my knees surrounded by a group of men with big dicks who I suck and then they take turns to fuck me. Mark Burcher
I'm a sissy slut and I get fucked like a girl by Mistress. Kevin Higgins
I wear my wifes panties to work under my uniform. My name is Tom and I work at Asda in Derby.
I wear my wifes panties to work under my uniform. My name is Tom and I work at Asda in Derby.
I'm Graham from Shrewsbury and I'd like to publicly apologise to my wife for being such a loser and with a small dick. I'm sorry, you deserve better.
I, Jack Edwards from Ipswich want everyone to know that my sole purpose is to serve Mistress. She is superior and my wife will go without so I can fund Mistresses lavish lifestyle.
I'm Oliver from near Preston. I now own no male underwear and my wife has cuckholded me for being utterly pathetic.
Sissy "Ellie" loves being feminised and goes to hotels in Sheffield and like a true slut invites men over to fuck and be used and abused.
My name is Oliver W from near Preston. I wear panties and want to watch my wife with a huge cock because I have such a tiny cock.